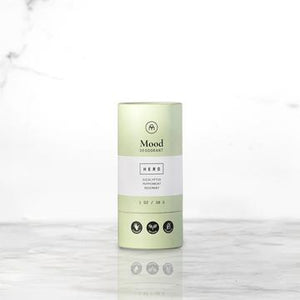 If you woke up in a sharp MOOD, this particular coconut oil natural deodorant will keep you mind-focused, stimulated and adventure Like a heroic act, it does three things, fast. Stops body odor, improves underarm's skin health (not many do that!)and enhances your concentration.
The victorious on this deed are Peppermint, Eucalyptus and Rosemary, the push of essential oils you need to seize the day! Even better, it's zero residues, zero stickiness and zero stains.
Size: 1oz / 30g (we don't use water in our products so you make more of it – no need to pay for "aqua")
Ecolicious packaging Coconut Matter's natural deodorant sticks come in zero-waste biodegradable packaging.
The eco-friendly paper tubes are rolled by hand using cardboard lined with food-grade wax paper on the inside and biodegradable laminate on the outside.
Push it up and be the eco-goddess of a sustainable living mode!
Hypoallergenic
Cruelty-free
Vegan
No Aluminium
No taste, or effect on flavour
No Baking Soda
No Parabens
No Silicone
No Phthalates
No Toxins
No Fragrance
No Alcohol
No Plastic
Slowly Handmade.
We are all about Sustainable Living and choose Clean Beauty Love it Natural & Wild.