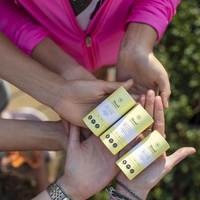 This citrusy wonder is a deodorant, not lemonade! As soon as you pop it open, the refreshing blend of Lemongrass, Lime and Frankincense essential oils will make you feel a boost of energy and brings clarity to the mind. Smells like BLISS and reigns with a tropical character.
3-in-1 BLISS natural deodorant does three things, fast.
• Uplift your scents
Why wait for a fancy spa day to experiencing the power of scent for wellness? Glide on BLISS for everyday pleasure.
• Stops body odor naturally
19 plant and mineral ingredients keep you fresh all day without Aluminium, Parabens, Petrochemicals or any allergens such as baking soda.
• Save the planet
Our paper popsicle tube make it easy for everyone to say "no plastic, please".
BLISS deodorant is seriously the deodorant you been waiting for – zero residues, zero stickiness and zero stains . It is child and pregnancy safe.